$16.00
AUD
Category: Picture Story Books
Come on a fantastic adventure to the moon and deep into space! This inviting book is full of amazing astronauts and super space vehicles, including moon buggies, lunar modules, robot spacecraft and lots more!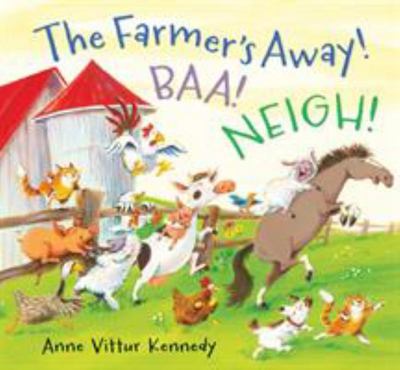 $16.95
AUD
Category: Picture Story Books
In a rhythmic read-aloud picture book, brimming with the irresistile sounds that farmyard animals make, Anne Vittur Kenny wonders, What mischief do the horses and cows and sheep get up to when the farmer's back is turned? Well, there's boating (of course!), as well as a picnic, a rollercoaster ride, a h ot-air balloon, ballroom dancing and ...oh no! Could that arf! arf! arf! mean the farmer's heading back? Even the youngest of listeners can read this book aloud by following along with the pictures and making each animal's trademark sound. ...Show more

$14.99
AUD
Category: Picture Story Books
Marmaduke and Meg are best friends, and have been forever. They live in a kingdom where everyone does what's expected of them ...everyone except Marmaduke and Meg. They're different, and being different together is what they love doing the most. As word of Marmaduke and Meg spreads across the kingdom, t hings slowly start to change - princesses, dragons, princes and knights all want to make friends with Marmaduke and Meg, and be different with them. After a while, Marmaduke and Meg are ...popular. Maybe even too popular. Because Marmaduke is so popular that he doesn't seem to have any time for Meg. And Meg starts to feel a little bit left out. Will she build up the courage to tell Marmaduke? And will he listen? A story about friendship, fights and finding the person we really want to be. From the team behind Marmaduke the Very Different Dragon. ...Show more

$26.00
AUD
Category: Picture Story Books
John Logie Baird loves inventing things When he hears about another inventor who has built a machine to show real live pictures, John sets about trying to do the same. Equipped with bits and pieces found in his house, John begins a journey which will change the course of history forever. Mister T.V. f ollows the life of John Logie Baird and the story behind the invention of the television. ...Show more
$16.99
AUD
Category: Picture Story Books
From the creators of Guess How Much I Love You, this enchanting story tells of the unconditional love between a family of bears. From the inimitable team that brought you Guess How Much I Love You comes a gorgeous, reassuring story about three little bear siblings, who one day begin to wonder how they t hey can ALL be the "most wonderful bears in the whole wide world" to their parents? Mummy Bear and Daddy Bear must set about reassuring their three little bears - who are all different - that each one of them is equally special and equally loved. ...Show more
$14.99
AUD
Category: Picture Story Books
When night falls my bed is an air balloon. I sail through the slipsiverse, close by the moon. I float above treetops where fluttertufts are sleeping And flowering hills where the whifflepigs go creeping; Ponds strung with starlight that glitter like glass, A floog with her velvet nose bent to the grass. Such treasures I spy on! My bed in the trees Swings me up high, like a circus trapeze. Now the cool, night-rustling air Slips through my finger-gaps, ripples my hair; Now we glide over water, the moon's silver light Blown by a cloudpuff into the bight, Adrift on the sea where the dream-shapes float; When night falls my bed is a sailing boat. A beautifully presented picture book with two front covers, the text can be read from front to back and vice versa. The mirror form poem meets in the middle in a stunning centrepiece image as the two children in the story (twins, one in an air balloon, the other a sailing boat) meet in the clouds! ...Show more

$20.00
AUD
Category: Picture Story Books
Digger-mad Brad is not cut out for a pirate's life, instead he dreams of life on a building site. When the Salty Dog sets sail, can he prove to Captain Blood that pirates do drive diggers after all?A rip-roaring, rhyming pirate tale for those digger-loving scallywags out there!
$17.00
AUD
Category: Picture Story Books
A story about who's the biggest - and being a good brother - in the best-selling series about Simon, the cheeky rabbit who knows just what he wants.

$30.00
AUD
Category: Picture Story Books
Lid up, pants down, bottom on the seat They must not have toilets in outer space, because this baby Martian keeps going in the wrong place: a bird bath, a bin, an up-turned hat. Perhaps if he masters The Toilet Song, he might learn where to go.
$19.99
AUD
Category: Picture Story Books | Series: Little People, Big Dreams | Reading Level: near fine
In this book from the critically acclaimed Little People, BIG DREAMS series, discover the life of David Attenborough, the inspiring broadcaster and conservationist. Little David grew up in Leicester on the campus of a university, where his father was a professor. As a child, he spent hours in the scienc e library, collating his own specimens and creating a mini animal museum. When he was old enough to go to university, he studied science and zoology--but what he wanted most of all was to be close to the animals he was studying. So, he started working in television, visiting animals in their natural habitats, and telling the world the untold stories of these animals. This moving book features stylish and quirky illustrations and extra facts at the back, including a biographical timeline with historical photos and a detailed profile of the broadcaster's life. Little People, BIG DREAMS is a best-selling series of books and educational games that explore the lives of outstanding people, from designers and artists to scientists and activists. All of them achieved incredible things, yet each began life as a child with a dream. This empowering series offers inspiring messages to children of all ages, in a range of formats. The board books are told in simple sentences, perfect for reading aloud to babies and toddlers. The hardcover versions present expanded stories for beginning readers. Boxed gift sets allow you to collect a selection of the books by theme. Paper dolls, learning cards, matching games, and other fun learning tools provide even more ways to make the lives of these role models accessible to children. Inspire the next generation of outstanding people who will change the world with Little People, BIG DREAMS   ...Show more
$19.99
AUD
Category: Picture Story Books | Series: Little People, Big Dreams
Part of the bestselling Little People, BIG DREAMS series, Steve Jobs tells the inspiring story of this world-renowned entrepreneur.   In this book from the critically acclaimed, multimillion-copy bestselling Little People, BIG DREAMS series, discover the life of Steve Jobs, the visionary whose ideas st ill shape the world. Steve Jobs grew up surrounded by inventors, in sunny Silicon Valley, California. He and his friend Stephen Wozniak channelled their love of computers into their own inventions, building a successful company from Steve's garage. Steve thought that computers were the future, and his big ideas would transform the world and the way people use technology. This inspiring book features stylish and quirky illustrations and extra facts at the back, including a biographical timeline with historical photos and a detailed profile of the brilliant businessman's life. ...Show more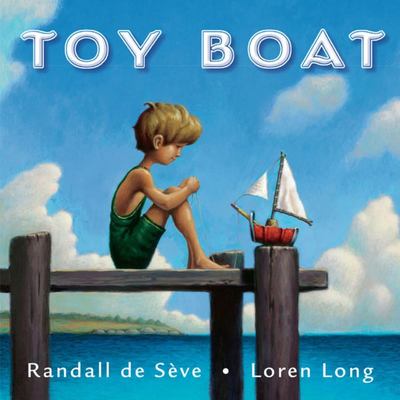 Toy Boat
by Randall de Sève; Loren Long (Illustrator); Randall de Sève
$31.99
AUD
Category: Picture Story Books
A little boy has a toy boat. He made it out of a can, a cork, a yellow pencil, and some white cloth. The boy and his boat are inseparable, until one day when the wind pushes the toy boat out into the wide lake. Alone now, the little boat must face fierce waves, a grumpy ferry, a sassy schooner, and a gr owling speed boat. How the little boat misses the boy But if he is going to survive, he must figure a way to do it on his own. Loren Long has a timeless and magical touch. As he did with The Little Engine That Could, he creates a world of toys and children that go right to the soul. Toy Boat will sail into young hearts and stay there.   Praise for TOY BOAT   * "With plenty of buoyant charm and imaginative artwork, this contemporary Little Toot has an abundance of child appeal."--Booklist, starred review   "A resonant tale with wide appeal."--Publishers Weekly ...Show more